Become A Capital Raising Pro With The Vault!
The Vault teaches you how to FIND new investors, PREPARE your "pitch deck," show up prepared and know WHAT TO SAY (and why you say it) to ATTRACT investor capital the right way!
50% OFF FOR A LIMITED TIME ONLY


Unlock the Strategies That Have Empowered My Students to Raise Millions in Capital.
Craft Your Pitch Deck | Find New Investors | Present Confidently
Secure Your Next Investment Within 30-90 Days
Secure Your First (or Next) Deal with The Vault!
When it comes to raising capital, timing and knowledge are everything. The Vault is your real-time playbook for closing deals and securing substantial investments. You get actionable insights for perfect pitches and investor negotiations, right when you need them. This isn't info; it's a toolkit to help you land that big investment when it counts."
Streamline Capital-Raising Efforts: Optimize your approach to securing investments with actionable playbooks and frameworks.
Pitch like a Pro: Stop winging it. Use our tried-and-true pitch methods that make investors sit up and say, 'Shut up and take my money!'

Maximize Returns: No more guessing games. Real-time insights and community feedback help you pick the winners and ditch the duds.

Unify Goals: Get everyone on the same page—literally. Our networking calls make sure you and your investors are singing the same tune.

Sharpen Financials: Use The Vault to make your financial strategy bulletproof.
What People Are Saying About This Program
From raising millions to personal growth, The Vault has made a positive impact on the lives of many. Don't just take our word for it, hear directly from our students and see the transformational power of The Vault for yourself.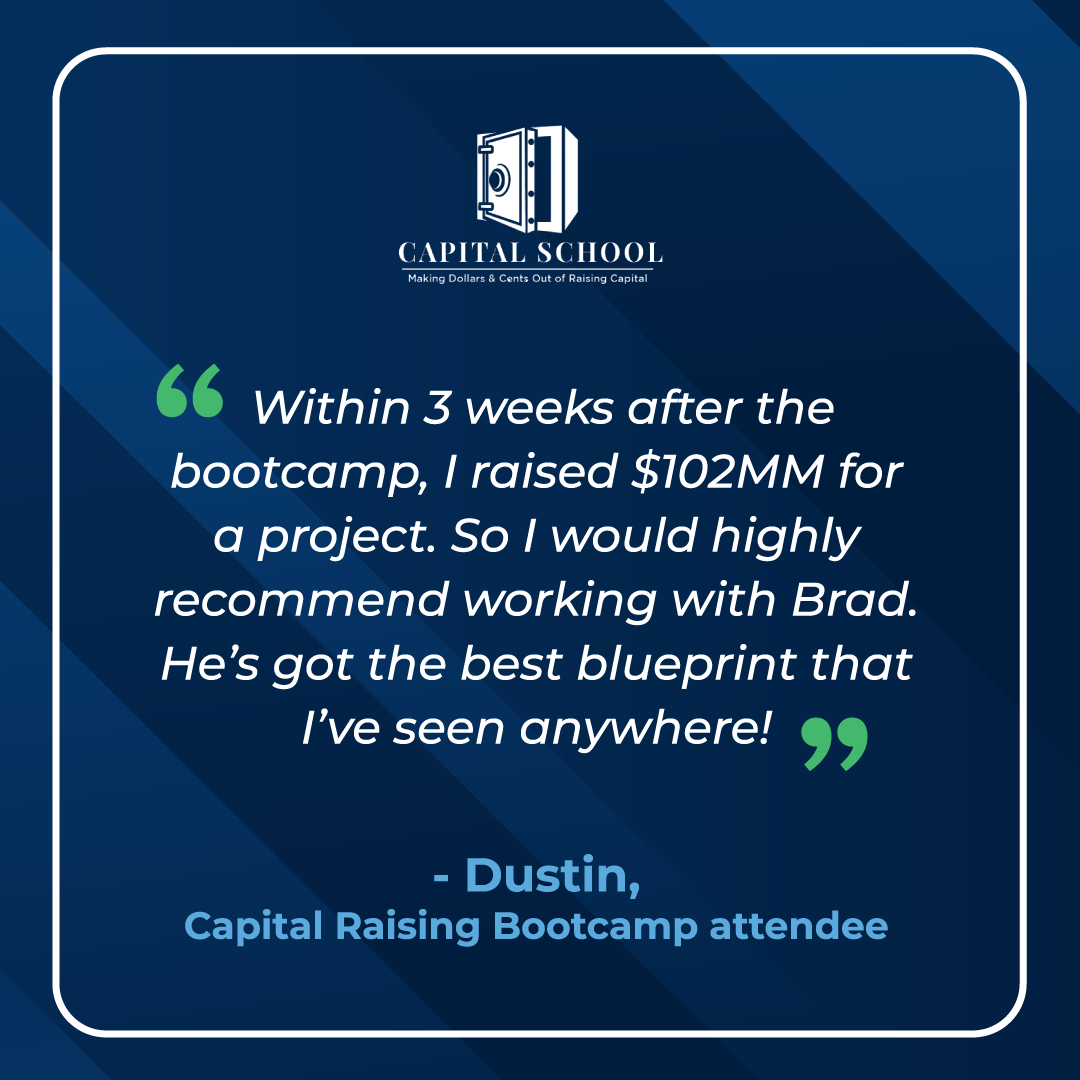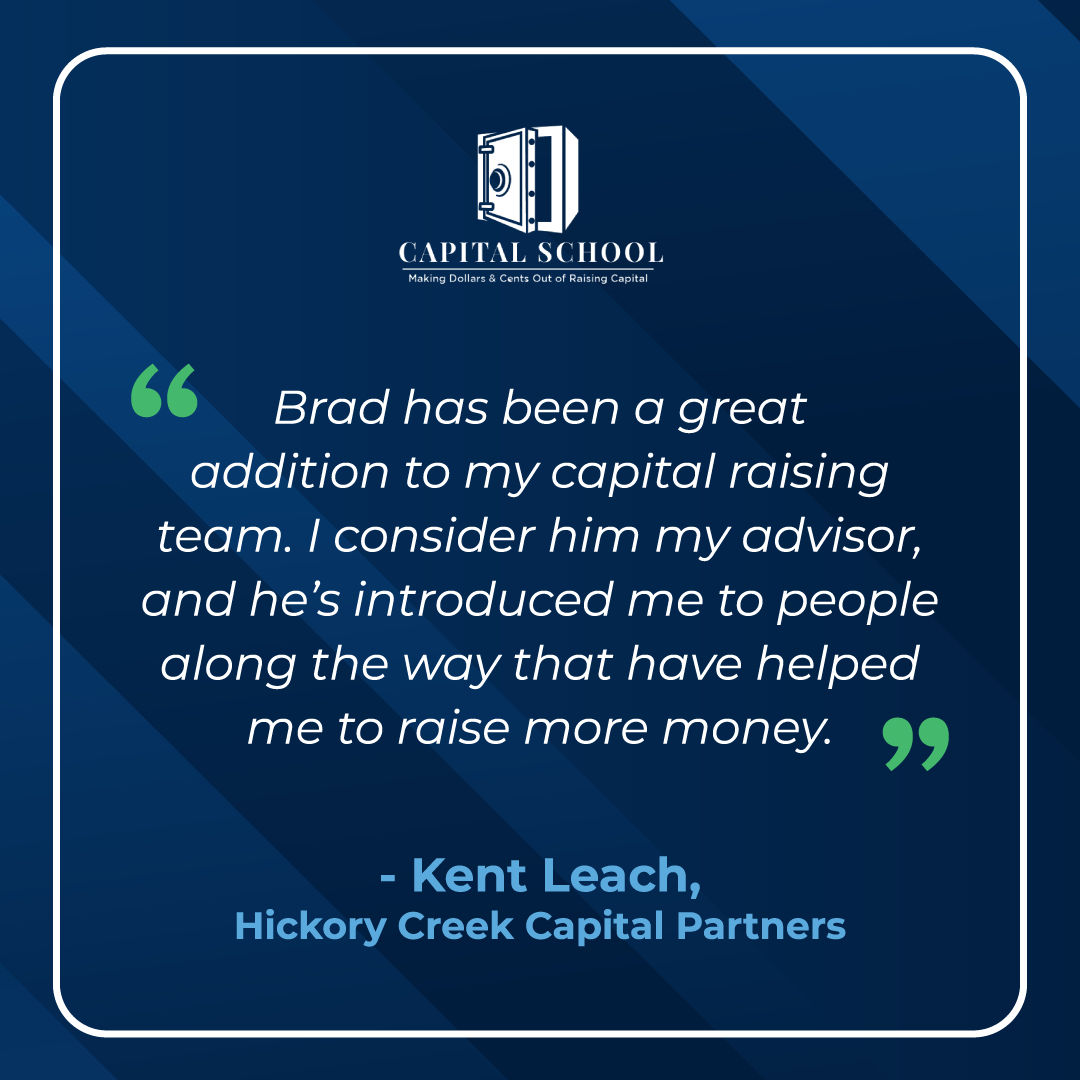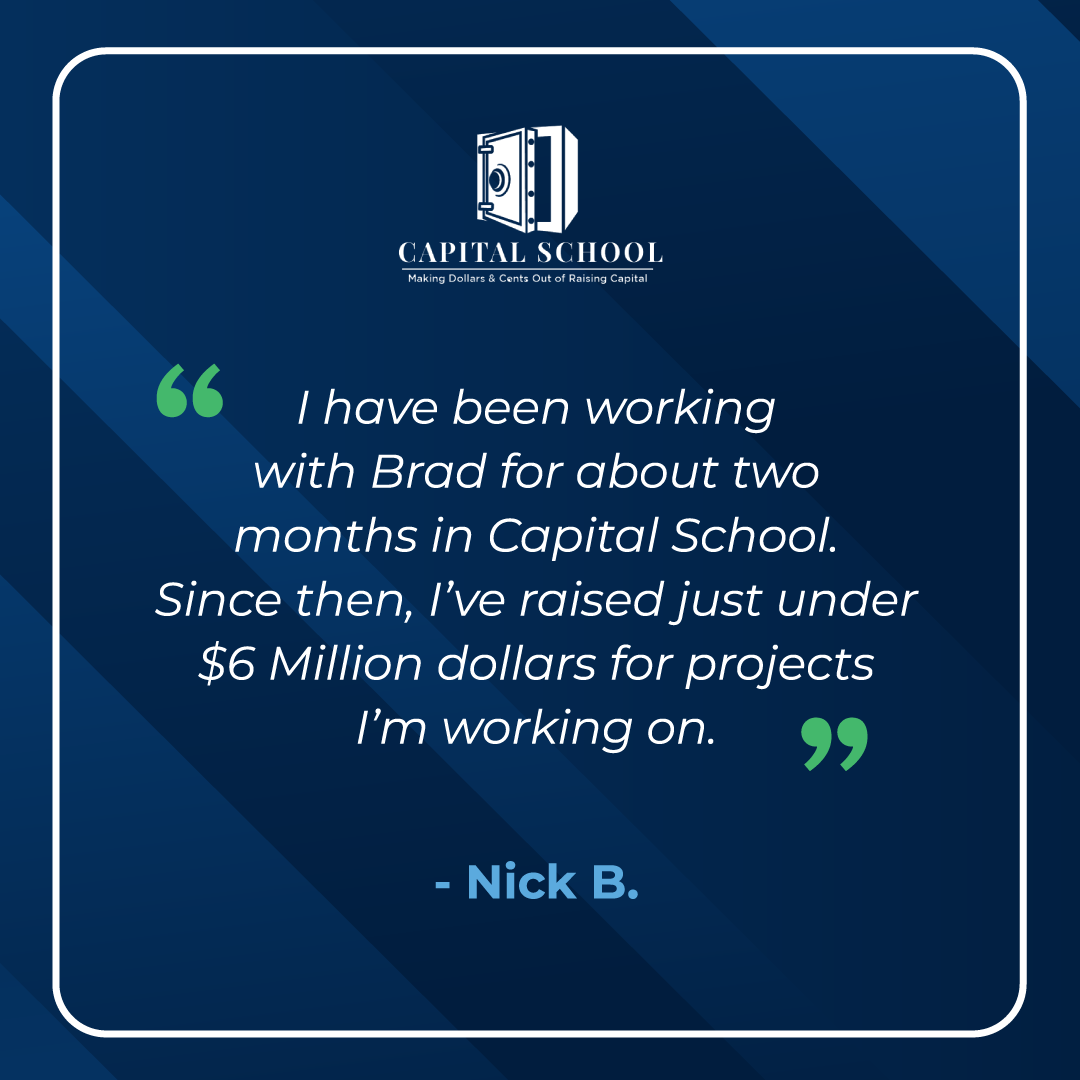 What's Included In The Vault:
✅ Capital Raising Playbooks
Unlock the secrets to successful capital raising with our meticulously crafted playbooks. These aren't just documents; they're your roadmap to financial freedom. Learn the strategies that have helped entrepreneurs like you raise billions, and apply them to your own ventures. [Valued at $1,500]

✅ Capital School Learning Center
Get mentored through 14 modules and 10+ hours of video. From the basics to the advanced, these modules turn you into a capital-raising maven. [Valued at $3,000]

✅ Private Capital School Community
Get your questions answered, share your successes, and build a network that can change your life. [Valued at $500]

✅ Priority Customer Support and Assistance
Our customer support team is not just "support"; they're your personal advisors in this journey, ready to assist you at every turn. [Valued at $1,500]

✅ Weekly Q&A "Office Hours"
Get direct access to Brad and industry experts who will answer your questions, provide personalized advice, and guide you towards your capital-raising goals. It's like having a board of advisors at your fingertips. [
Valued at PRICELESS]
$6,500+ In Real-World Value
For a limited time only — 50% OFF
One 1:1 sit-down with us usually costs a small fortune.
But with The Vault, you're getting ongoing access to resources, playbooks, and a community that's raising billions.

The return on this investment isn't just substantial; it's transformative.

This is your chance to invest in your business's future at an unbeatable rate. Don't let this opportunity escape; it's time-sensitive and reserved for our most engaged members.
For a limited time only — 50% OFF
Don't miss out on this limited time offer!
Don't miss this opportunity to invest in your future and take your business growth to the next level. Enroll in The Vault today and take the first step towards achieving your capital-raising targets!
Hurry, this limited time offer won't last forever.